Michele | Relationship Coach & Mentor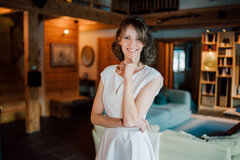 Relationship Counselling Bramley - Guildford




Birtley Road 9, Bramley




GU5 OJQ

Guildford

Send a message
✓ I also offer online therapy
Great, you are taking the first step.
Leave a message and I will contact you as soon as possible.




Relationship Counselling Bramley - Guildford
My name is Michele, I am a Professional Certified Relationship Coach & Mentor. I am also a qualified psychotherapist. I help couples radically transform their relationship giving them the tools to move way beyond recurring conflict, avoidance and hurt. In particular I help each individual understand how to empower themselves, so that they can take the responsibility required to change their relationship dynamics over the long-term.
You have everything it takes to create the relationship you really want. A relationship where you feel heard and where you know you are deeply loved and cared for: where you are able to navigate life and the difficulties it can throw at you together as a team.

We are not how to create deeply loving and connected relationships. We must learn how to undo our conditioned patterns of behaviour and thinking, so that we can show up in healthier ways for ourselves and our partner.

I help my clients move beyond these patterns so that they can create a consistently loving, connected and intimate relationship over the long-term. I give them the tools to empower themselves and teach little known information about how men and women need to relate to each other in order to meet their differing needs.

I use a number of modalities that address the mind and the body as it is crucial that we don't just look at your mindset. Every relationship issue is rooted in an unhealthy relationship with one's own emotions and feelings. I address the truth about our emotions and help you to experience more trust in your own capacities to transform your situation.

Unfortunately society sets us up to sabotage our love lives and we deeply fear being rejected for who we really are, which is why so many people are hiding in their relationships: hiding behind conflict or avoidance. As a result of this work you will have a healthy foundation or structure to come back to time and time again that will help you move beyond the default patterns that are keeping love at arm's length.

I welcome and invite you to this life changing and relationship transforming work.
Online therapy
I offer online sessions via zoom (or skype) as well as face to face sessions. In my experience online sessions are just as effective as face to face.
Qualifications and registrations
Diploma in Contemporary Psychotherapy (Beeleaf, London, UK).
Imago Relationships Facilitator.
Co-active Professional Certified Coach (CPCC, Coach Training Institute).
Associate Certified Coach (Internal Coach Federation Accredited).



Specialisations
I specialise in relationship communication & help you to hear the difference between healthy and unhealthy language, which is not always easy to spot. I provide my couples with a strong & proven structure that gives them a place to come back to time & time again. This structure involves the use of archetypes, which relate to the parts of you who always react and think from a place of fear, as well as the parts of you who are capable of creating a deeply loving relationship. When you can see & hear the difference between these parts of yourself. you are in a far stronger position to create the transformation you are looking for.
I offer a Timeline Repair session to each individual to begin our work together (12 session package), this is a highly effective tool that addresses the unconscious wounds and programming that influence your behaviour and thinking patterns.
You can book 1 session to start off with to see how you get on or you can benefit from discounted prices if you book a package of 6 or 12 sessions. For most couples it takes I highly recommend a minimum of 3 months work to create and experience long-lasting change and prevent your relationship from returning to default patterns of behaviour.
Most common issues I support people with:
1. Communication
2. Conflict - passive aggression, arguments, defensiveness
3. Avoidance - shutting down, sulking, withdrawing, stone walling
4. Emotional Connection - how to deepen your emotional connection
5. Intimacy - improving the passion & eroticism in your relationship
Therapies offered
Areas of counselling I can help with
Fees
Couples Relationship Coaching & Mentoring Sessions & Packages:
1 Session (90 minutes) - £150
6 Sessions - £720 (sessions to be taken within a 3 month duration).
12 sessions - £1200 (sessions to be taken within a 4 month timeframe).
My 12 session spackage includes a 1 to 1 session (incl. Timeline Repair Modality) with each individual to begin our work together. I also gift my clients my online course 'Deeply Loved'. The information in this course will greatly support our work together.
Availability (Opening hours)
| | |
| --- | --- |
| Monday | - |
| Tuesday | - |
| Wednesday | 10am-7pm |
| Thursday | 10am-7pm |
| Friday | 10am-4pm |
| Saturday | 10am-3pm |
| Sunday | 11am-3pm |
Location