Mark | Counsellor/ Therapist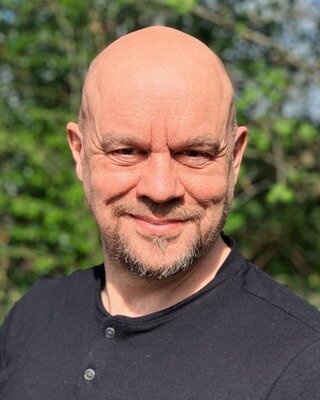 ✓ I also offer online therapy
Great, you are taking the first step.
Leave a message and I will contact you as soon as possible.




Online Relationship Counselling
Hi, I'm Mark a counsellor who specialises in working with couples who have disconnected and wish to rediscover their emotional bond through better forms of empathic communication and achieve healthy confrontation to help de-escalate cycles of conflict where they are blaming, attacking and withdrawing from one another.

My aim is work with them to reach a place where they once again feel like a team who can resolve things in a healthy way. Other issues covered include discovering each other's love language and rebuilding trust.

I provide online counselling using Zoom, Skype or WhatsApp and phone counselling.


Emotionally focused therapy
I work with couples using a style called emotionally focused therapy. This looks at the pattern of conflict a couple find themselves in and the roles they play within it e.g.one person could be the pursuer who attacks, while the other is the withdrawer who defends, setting up a vicious cycle where the real emotions behind the cycle are not being addressed.

My job is to help the couple find the real emotions behind what happens when the cycle kicks in, usually expressed by secondary emotions such as anger and frustration. When the couple tune into each other they reach out and relate to one another through what are called the primary emotions e.g. disappointment and hurt. These more vulnerable emotions help them get beyond the secondary emotions and communicate with empathy towards one another at the level where they begin to hear each other and break the pattern of conflict they have fallen into.

This is a proven style of therapy that works, as you are both able to put the brakes on the old familiar pattern of secondary emotions allowing yourselves to communicate as you should in a healthy constructive way and de- escalate conflict. Vulnerability is important in any relationship and where it is embraced through open communication in the present moment, where a person says what they mean when they feel it, in a soft and gentle way, misunderstandings are avoided and each other's perceptions are understood and appreciated.

I often explore love languages in my work. This is a useful concept with helps couples recognize what is most important to their partner and how they can you accommodate the language that helps the other person most connect with their partner and strengthen the emotional bond in the relationship.


Rebuild trust
Much of my work is around helping couples to rebuild trust where there has been infidelity. I value the importance of working with the perpetrator who needs to acknowledge the injured parties loss from their own sense of grief and remorse from what they have caused. It's also important that I help the offending partner to remain non defensive and recognize their partner's pain and that they care about it. Also I help the injured party to open up about the emotional impact of the infidelity and share overwhelming emotions, which they can share and process with their partner in a safe place.

I believe strongly that however your disconnection has happened as a couple you can find healing and recapture and nuture your emotional bond, which you forged when you first fell in love together. I would be glad and privileged to help you on that journey.

I offer you 20 years experience during which time I have worked with couples, individuals and young people.

If you would like to know more, or book an appointment, please send me a message.
Mark
Online therapy
Online (Zoom, Skype and WhatsApp) and telephone counselling
Qualifications and registrations
Diploma in person- centered counseling

Diploma in professional studies

Certificate in couple counseling
Registrations
Most common issues I support people with:
Creating open empathic communication.
Doing healthy confrontation to break unhealthy cycles of conflict.
Discovering each others love language.
Rebuilding trust.
Infidelity.
Therapies offered
Areas of counselling I can help with
Fees
Online session (50 mins) £60
Availability (Opening hours)
| | |
| --- | --- |
| Monday | 11-10 |
| Tuesday | 11-10 |
| Wednesday | 11-10 |
| Thursday | 3-10 |
| Friday | 11-9 |
| Saturday | 12-8 |
| Sunday | - |
Location
Reviews Online Relationship Counselling
Below you will find reviews about Online Relationship Counselling - Mark

Rating of 5 out of 5
Based on 4 reviews
(Write your own review)

Mark was helpful and supportive in all sessions.
Mark was able to manage anger & tension between us as a couple and suggest ways of defusing situations as well as looking at deep seated triggers which were causing problems within the marriage.
Mark was able to allow us to space sessions out to help implement the tools & techniques learnt and what also made the process affordable.
Helen
| Chester | 18 May 2023
Did you find this review useful?
Yes

6

Mark has been great. My husband and I booked for couple's counselling. He took the time to really understand our issues and then helped us immediately in our first session with tools to address these! Our time with Mark has literally changed our relationship. We will definitely book to see Mark again should the need arise.
Did you find this review useful?
Yes

2

Mark was very easy to open up to
We both found Mark to give sound, pragmatic advice all the while being empathetic at a time when our marriage was under strain following many years of hardships.
Mark was very easy to open up to and was completely fair on both sides making the process, we found, extremely successful in a very short time. The whole process was carried out remotely at a convenient time.
Thanks Mark.
Stephen and Zoe
| Kent | 1 Sep 2023
Did you find this review useful?
Yes

2

We were both very happy with Mark
Effective service and support, we were both very happy with Mark, felt listened to.
He seems to understand the problems and what we were going through and struggling with.
We feel that we now have the tools to enable us to cope with our struggles. We have spoken to our friends and have been recommending Marks counselling.
We would both be very happy to go back if we needed too, in the future.
Happy customers
| Ipswich | 13 Nov 2023
Did you find this review useful?
Yes

1