Keli | Person-Centred / Integrative Counsellor
✓ I also offer online therapy
Great, you are taking the first step.
Leave a message and I will contact you as soon as possible.




Online Relationship Counselling
Hello, welcome to Even Keel Counselling.


If you are reading this, it could be that you and your partner may feel you need some help.
I work with couples to help you discover healthier ways of relating or overcoming challenges that you experience as a couple. Whether this is a breakdown in communication or if there has been an affair.
Some signs that you could benefit from relationship counselling -
Each time you talk, it ends in an argument (or you keep having the same arguement).
You can't discuss your feelings or issues without it spiralling.
You find you are avoiding certain topics out of fear of triggering unhealthy behaviour.
You feel like you're working against each other and struggle to see the other's point of view.
You have experienced a change in intimacy.
You have reached the point where you no longer care if the other is upset, don't want to prioritise their needs or spend time together.
You keep secrets from one another.
You've gone through a trauma together or experienced an affair.
I will work with you to explore your shared experiences and individual thoughts and behavioural patterns, which will help shine a light on the specific issues in your relationship.
I can help you to develop the skills, like effective communication, which you need to move your relationship forward and develop a deeper connection.
Relationship counselling is not exclusively for traditional partnerships, e.g., spouses. It can also be useful for other relationships, such as siblings or parent and child.
Please be assured, I do not take sides. I offer a non-judgemental, unbiased space where each partner will be respectfully listened to. I'll work with you both to identify your main issues and support you as you work together to improve the situation.
If you would like to know more or book an appointment, please send me a message.

Keli
Online therapy
Online counselling (Zoom or whatsapp)
Telephone counselling
Qualifications and registrations
2022 Centre of Excellence, Menopuase Awareness Diploma
2021 Quality Licence Scheme Level 5 Diploma in Counselling Child Trauma
2018 – 2019 Accredited by Northwest Counselling Level 6 Diploma in Counselling Casework and Supervision
2017 Accredited by Northwest Counselling Level 4 Diploma in Relationship and Couples Counselling
2015 – 2016 Level 4 Diploma in Counselling children and young people
2013 – 2014 CPCAB Level 3 Certificate in CBT
2011 – 2013 CPCAB Level 4 Diploma in Therapeutic Counselling
2010 – 2011 CPCAB Level 3 Certificate in Counselling Studies
1993 – 1994 Wrexham Further Education Centre, Wrexham - AMSPAR Certificate in Medical Secretarial Studies NVQ Level 3 Business Administration
1992 – 1993 Cartrefle College, Wrexham - RSA Business Administration (Senior Secretarial) NVQ Level 2
1985 – 1990 Saint David's Comprehensive School, Wrexham – 6 GCSE's, including English and Maths
Counselling Workshops attended
CPCAB Walk & Talk Counselling and Ecotherapy module
APT Accredited Level 2 – Providing good clinical supervision
Coleg Harlech WEA North Wales Certificate - Mental Health and Illness
Coleg Harlech WEA North Wales Certificate - Bereavement
Betsi Cadwaladr University Health Board - Certificate in Adult Protection Training
Certificate of Attendance - 6 week training programme for Rape & Sexual Abuse Support Centre (NW)
Certificate of Attendance - Understanding Suicide and Self Injurious Behaviour Workshop
Certificate of Attendance - Sand and Art therapy Experiential Course
Certificate of Attendance - Photography, Ribbons and Pebbles Workshop
Certificate of Attendance - An Exploration of Eating Disorders Workshop
Certificate of Attendance - Therapeutic Interventions using Gestalt Techniques Workshop
Certificate in Transactional Analysis TA101
Registrations
Areas of counselling I can help with
Registered with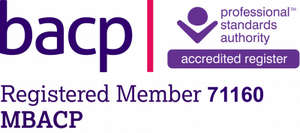 Fees
Couples £60 per session
Individual £50 per session
Appointments 6.30pm or later will be subject to a £10 supplement.
Availability
Monday to Friday
Location